This page will cover the usage of Chronoswitch to downgrade the PSP. It can be helpful in the following scenarios:
Reverting to an older firmware (Eg. 6.61 to 6.60)
Removing Infinity and/or custom firmware to revert to stock firmware
Removing Infinity v1 to install Infinity v2
Removing Infinity and/or custom firmware to install ARK-4 custom firmware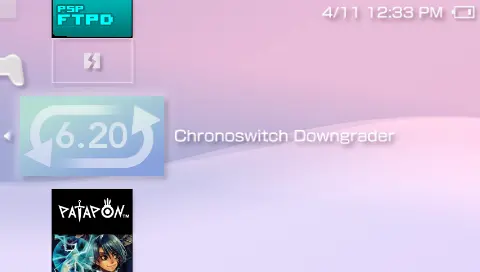 Please read carefully through the steps. There are always some risks when updating(downgrading) your firmware or installing custom firmware. You can minimize these risks by:
Having at least 80% battery life
Making sure your battery will not fall out
Keep the charger plugged in
---
Download
---
Installation
Download the appropriate firmware file for your PSP you want to downgrade to. Please note that the PSP Go has a different update file compared to every other PSP model. Ensure you are getting the correct firmware file.
*PSP Go users need to have files on the internal memory, not a memory card

6.60 and 6.61 update files can be found here: https://www.pspunk.com/psp-update/
Other firmware versions can be found here: https://darthsternie.net/psp-firmwares/
Do not downgrade to firmware below 6.20. This guide has been tested with 6.60 and 6.61 firmware.

Transfer the PSP update file to PSP/GAME/UPDATE/EBOOT.PBP


Download Chronoswitch v7 and transfer the EBOOT.PBP to PSP/GAME/Chronoswitch/EBOOT.PBP
Create the folder "Chronoswitch" if it doesn't exist.

On the PSP under the Games list there will be an application for Chronoswitch and the update version you are downgrading to. Open the Chronoswitch application.

Follow the instructions listed on the screen by pressing X to continue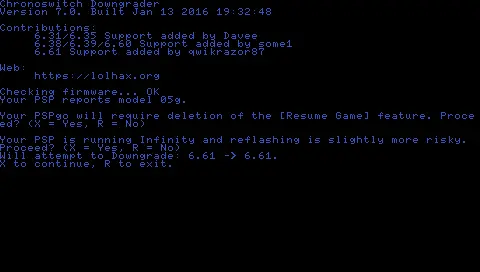 The PSP will then load the official firmware update. Follow the steps on screen to complete the update. Once completed the PSP will restart and will now be on the official firmware version that was chosen.
---
Credits to:
DaveeFTW
Darth Sternie (firmware files archive)
some1
bbtgp
coyotebean
kgsws
Silverspring
Bubbletune
qwikrazor87